mprovements and New Functions to Give you an Even Better Experience
We've had some big improvements this month aimed at making your OurProperty experience even better. Read on to learn what Russell and the team have been working on and the impact these changes will have on your business;
Tenant App – users can now use their mobile number to login
This is a big one and the most exciting update this month! In the tenant app, the tenant can now use their mobile number as their username and their usual password to login. This makes it easier than ever for tenants to use the app. Up to a third of tenants don't list an email address and use only mobile. Now we have a solution to manage them.
Inspection entry notices can now be sent from four roles
A specific sender can now be selected when sending inspection entry notices and associated messages. Sender options include Agency, Property Manager, Inspector or Scheduler. This gives more flexibility around different roles conducting inspections.
Tenant inspection feedback template is customisable
The feedback sent to the tenant after a routine inspection can now be customised before it's sent. This enables your agency to put your preferred branding and tone into the communication. There is also a customised SMS.
More templates for rent review recommendations
There are now three configurable recommendation templates for No Lease (rent review) renewals. This means that your agency can make their recommendations to rent modifications as either standard, increase or no change.
Preview bond documents and leases
Now property managers can review the bond document as well as the lease for new leases and renewals.
PM Inspect: maintenance key collection for tradies can now be done from the app
Property managers can now check out keys required by tradies to complete their jobs through the PM Inspect app. This is super useful for offices without reception. It's the same process that you use on your computer, now available in the app as well.
Reformat of MAAs to one column gives greater flexibility
The old MAAs were two columns in some sections. Now they are one column so they can be expanded for different agencies and states. This gives us more flexibility to deliver what's required for each state and agency.
The Agency Health Report is even more useful
Office managers now have a complete picture of their agency's health, with detailed graphs allowing them to monitor what's going on in their PM department.
Tradie Compliance Report for compliance and insurance
The compliance report now includes tradie insurance, licences and GST/ABN. This is especially important for insurance and to see if tradies are registered for GST, as many tradies aren't.
Additional inspection types that don't impact routine inspections
There are now additional inspection types (such as warranty, pre-vacate and re-inspection) that do not affect the routine inspection reoccurrence. Other inspection types don't have the same requirements as normal routines so they won't be counted as one.
Dolly Parton – the 9 to 5 option for all day entry notices
For some states that allow an "all day" entry notice for routine inspections, we now have an option that is simply 9 to 5 rather than working on the available times.
Resend lease emails
Emails can now be resent from the email log in Leases > Email Log.
GeeDee integration
The integration with GeeDee is now complete. We are beta testing and will soon be ready to take on clients using this system.
Victoria Leases
For our Vic clients, the less formal Vic lease style has been incorporated.
Overdue Reminders now colour coded
Reminders are now colour coded to their status (ie. to be actioned, completed, overdue and rescheduled). They appear in the calendar in their respective colours and in the reminder lists under 'Today's things to do'. Stay tuned for stage three!
Tenant feedback SMS's configured
Tenant feedback SMS's are now configured following routine inspections.
Arrears messages – optional address block
The address block on arrears messages can now be optionally removed from arrears emails in your agency's settings.
The bond form and registering claims
The bond form now can register a claim and process the required payments once the claim funds arrive.
Entry Notice Preview
In the inspection timetable, property managers can now preview the entry notices prior to sending them.
Leases
You can now stop and start leases on the same day.
Lease Attachments – REMINDER – Completely Paperless Lease Packs
This one was in our October newsletter, but it seems many clients are not using this very useful function yet. You can now attach documents to leases that will be sent to the tenant along with their lease document.

PDFs are preferred. Try not to attach too many, or any files that are too big, as this may cause issues when tenants receive them.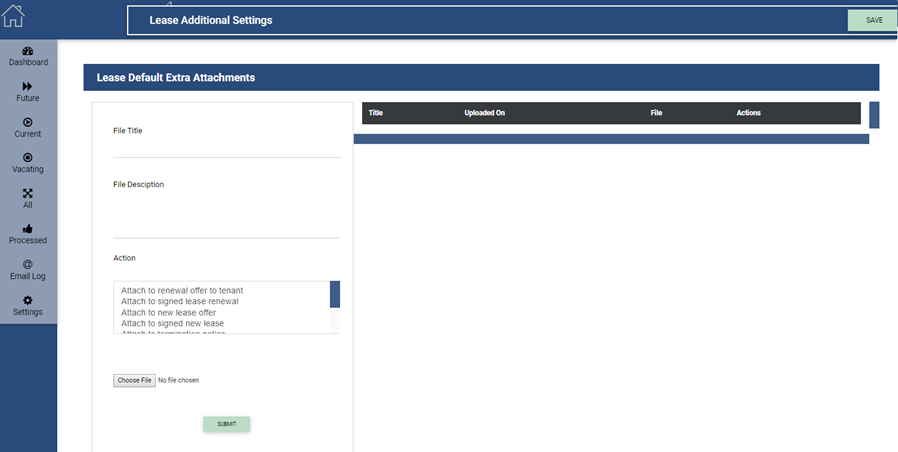 How To Steps:
Open the lease settings in House Icon > Lease > Settings
Click on the Lease details tab and scroll lease default extra attachments
Enter the File Title
Enter the File Details for easy reference later
Choose the action. This is what will tell the system when to include the specific document. You can chose more than one option by holding down the Ctrl key on your keyboard whilst selecting your options.
Click Submit each time
Once all documents are loaded make sure you click Save at the top of the page


That's it for this month. There will be lots more in December.

Our team loves hearing your feedback, so if you have any questions or suggestions for future updates, please get in touch with our Support or Customer Success team.

The Our Property Team