Introducing the NEW Tenant Acquisition Features in OurProperty
Designed to simplify the tenant acquisition process – less vacancy time, more leasing fees and more new managements.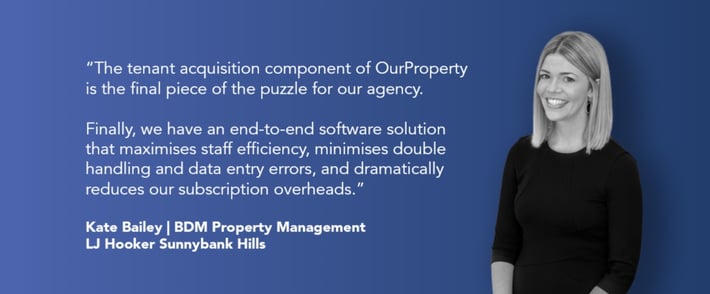 It's been a long time in the making, but definitely worth the wait! The Tenant Acquisition component is your solution to marketing, viewings, and applications. It's the final component of our software, making OurProperty the only complete, all-in-one solution for property management. 
No more costly apps plugged into old inefficient platforms that can't deliver what you need.
The challenging environment we've faced over recent months has really shone a spotlight on remote-working technologies, including cloud-based storage, remote inspections, virtual viewings, becoming paperless, going cashless, and creating virtual listings, just to name a few.
All of these features are already built into OurProperty, and property managers who are using the platform saw hardly any disruption in efficiency and productivity over the past few months.
Now, with the Tenant Acquisition features launching, OurProperty is your complete software solution for automating and streamlining your property management business.
What does it do?
The Tenant Acquisition component combines three key property management tasks in one easy-to-use process.
Marketing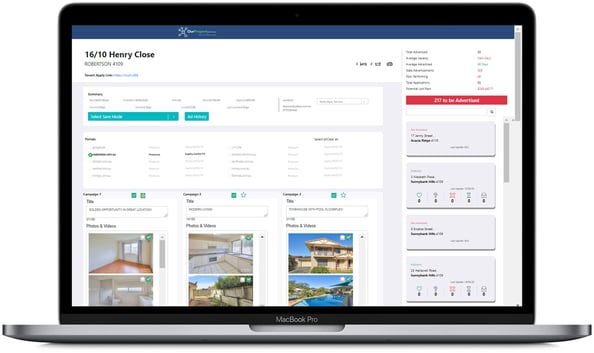 Create multi-campaign marketing strategies with three separate advertisements on constant rotation to optimise your advertising dollar. You can enter separate headings, feature lists, and photos, to market the property at different audiences.
Plus, the rent term, bond amounts, and conditions are all entered in one place, which feeds into the new lease creation, saving you lots of time from not double-entering data.
Viewings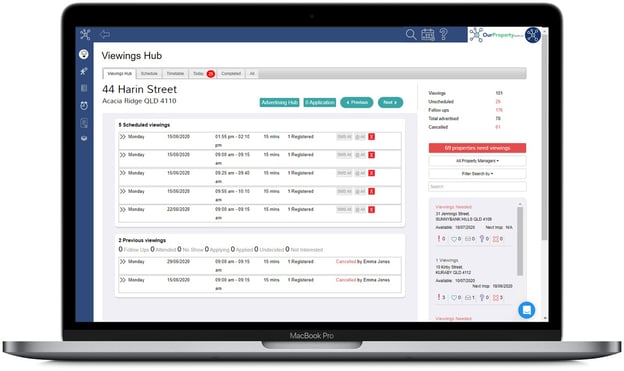 Manage property viewings and appointments, with notifications and replies sent to potential tenants every step of the way. The system also creates detailed landlord reports for owners, to keep them updated on their property.
Applications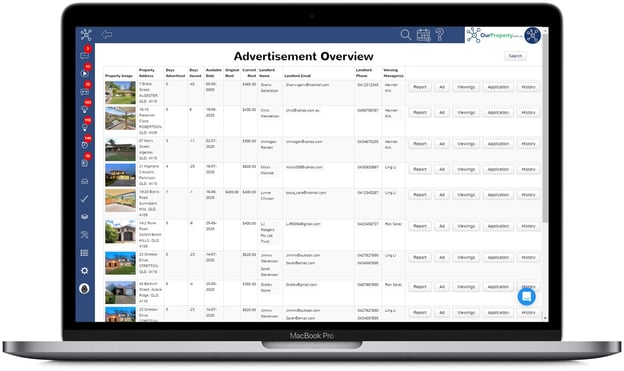 Tenants are able to upload their applications online, including supporting documents, rental references, income information and more. Rental and employment references are automatically sent with the response recorded in the application vetting list. Shortlisted applicants can be sent to the landlord for approval, and new leases are automatically created.
A far superior process to the current standard and your valuable tenant data is not being captured by a third party web platform.
How does it work?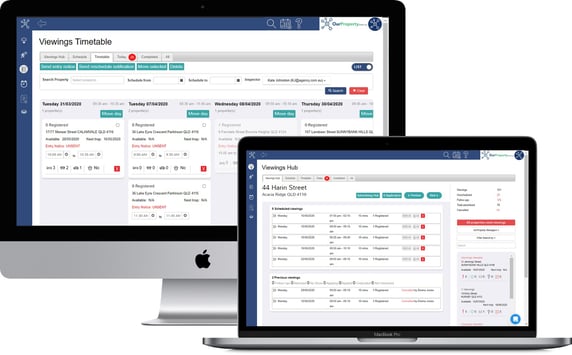 The Tenant Acquisition component is just one part of the complete OurProperty solution, designed to replace a majority of your existing subscriptions and software. 
Having one platform for everything means that every component talks to and complements the other components.
The Marketing, Viewings and Application features all link into the Leasing component, which then links into the Maintenance, Arrears, Compliance, Payments, and other components to look after the entire management.

The Tenant Acquisition Journey
The Tenant Acquisition component manages the initial part of the leasing journey:
Upload photos, rent term, bond and conditions all in one place
Create multiple rotating campaigns to maximise your advertising dollar
Campaigns, application links and viewing details are uploaded to online portals
Potential tenants register for and view available properties
Manage property viewing availability
Tenants apply online or via their phone
Tenants upload their 100 points of ID and reference details
View all applications and complete the vetting process in OurProperty
Tenant employment and rental references are automatically sent
Recommendations are automatically packaged up and sent to the landlord
Applicants are notified and updated on the progress of their applications
Non-approved tenants can be sent other suggested properties
Landlord selects an approved / preferred applicant
New tenant profile is automatically created in OurProperty
New lease, welcome letter and payment link (if your office is using OurProperty Payments) is automatically generated
How does OurProperty help agencies?
The benefits of OurProperty in property management businesses are astounding. Here's a case study from one of our many large clients in Queensland.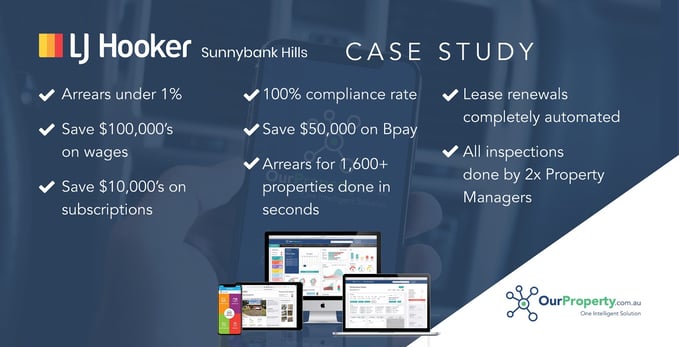 With the Tenant Acquisition component, the benefits continue:
Saves a considerable amount of time double-handling and entering data
Allows your office to go paperless
Less vacancy period for landlords and owners
Increases your bottom line
Encourages property managers to keep applicants updated on progress
Less time chasing missing information
Automatic generation of emails to employees and references
Contact us today to book a free, personalised demo for your business and let us show you how OurProperty can transform your business.